WINGS OF DESIRE: New York's 34th Annual Halloween Parade
OCTOBER 31, 2007. Sixth Avenue from Spring to 22nd Street
---
Act I: BIRDS (Thesis)

The human desire to fly is primal and universal. No aspect of the natural world inspires as much awe and envy within in us as the flight of birds. In the first part of the performance, the birds take center stage, in the wild interplay of four winged figures with plumed headmasks and long wing extensions. The four birds are buoyed in an abstract sky formed of 9 silken fabric bands, deployed in the traditional manner of a Chinese ribbon dance.

Photos from ACT I (Click any image to browse):
Continue to Act 2, ICARUS.....................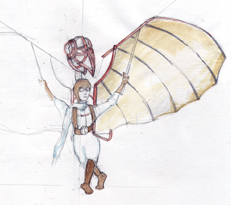 Return to Wings of Desire Home.........
---