EBUNE: A West African Rite of Spring
Led by Oscar Mokeme, director of the Museum of African Culture, this trans-cultural event draws its inspiration from Nigerian ritual traditions invoking Ebune, the Ram. A symbol of fertility and the harbinger of spring renewal, the symbol of the Ram exists not only in West African culture, but across a wide span of traditions including Greek and Egyptian myth, western and eastern astrology, and the Judeo-Christian canon.
Ebune is an open event, and has always welcomed artists and performers from any cultural tradition to make a Ram-themed element for the event. The event has grown in numbers every year, and is now a much-anticipated neo-tradition in Portland. Whether paticipants want to come blow their horns or simply wear them, any interpretation, in any medium, is welcome. Though the first 2 years of the event were organized by PAW in tandem with Dr. Mokeme, it has now been taken on by the local artists of Portland and continues to grow, keeping pace with the increasing presence of African immigrants in the region.
Links to Ram Mythology and Imagery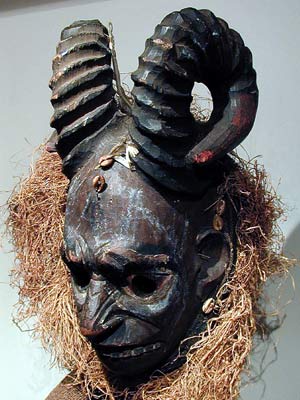 See Pictures from the 2004 Procession
See Pictures from the 2005 Procession